As interior designers, we believe your home should reflect your personality and lifestyle.
That's why it's important for us to help our clients uncover their tastes and preferences, so that together, we can envision a space that's not only striking, but is also functional. After all, what good is a beautifully designed room if you don't feel comfortable living in it?
Whether you're drawn to Mid-Century Modern furniture or gravitate towards Hollywood Regency glamour, find inspiration in the layered look of Boho, or prefer Minimalism's clean lines, there are dozens, if not hundreds, of interior design styles to explore.
While it's fun to browse glossy shelter magazines or a celebrity designer's social media feed, identifying items you love along the way, the process of creating a cohesive look for your own home can quickly become overwhelming. If you're not entirely sure which design style suits you best it can be difficult to determine which pieces are worth the investment.
To help you figure out your best style, here are a few of our tried-and-true tips.
1. Take Inventory
At the start of each project, we ask our clients a few key questions to help find their interior design style. The first—and perhaps most telling—of which is, "What do you like?" The second—which is equally important—is "What do you dislike?"
For example, do you enjoy polished rooms filled with curves and organic shapes? Or do you favor more traditional forms? Do you like pops of color, such as bold, jewel tones? Or do you prefer more harmonious neutrals? What are some textures that you adore? Perhaps you love the look and feel of buttery leather, but the sight of boucle makes you cringe.
Next, take a look at your own home. What about its style and layout works for you and what could use improvement? And, of course, don't forget to acknowledge your dislikes, too.
2. Gather Inspiration
After you've identified your preferences, collect examples of spaces that impress you—whether it's a hotel lobby that you remember vividly or a page torn from your favorite design catalogue. This is helpful to us as designers because, oftentimes, a client might say that they prefer modern spaces but they'll show us pieces that aren't modern at all.
Your sources of inspiration don't have to be limited to interiors. They can be anything that brings you joy—whether that's sculpture, photography or souvenirs from your travels.
Maybe there's a vacation photo that you'd like to display because it elicits memories of your adventures abroad. Sometimes our clients will realize they want to incorporate personal items into their home's decor, and we'll often build a design narrative around these pieces.
3. Consider Your Lifestyle
Your furniture should fit your lifestyle—not the opposite. Whether we're designing a luxurious bedroom suite or a phenomenal chef's kitchen, the function of the room will largely depend on who's using it.
For example, a living room for a suburban family of four with pets will look very different from that of a young, city-dwelling professional who loves to entertain.
Remember that a room is a reflection of who you are. It's important to tailor the room's experience to how you live your life.
4. Experiment
When it comes to styling, there are many different layers to consider, including color, texture, and materials such as woods and metals.
Think about the colors that you enjoy wearing—which ones make you feel the best? Keep this in mind when considering the design of your home, as color can have a profound impact on mood.
For example, we recently designed a home office for an executive who works best in cool, dark spaces. Knowing this preference, we selected a mix of greys and charcoals in sleek lacquer finishes. You, on the other hand, may prefer bright, cheerful hues, or a mix of dark shades featuring occasional bursts of saturated colors.
When it comes to texture, do you find yourself admiring rich, velvet chaises and faux fur throws? Or are you more inclined towards woodsy, natural elements such as rattan, cane, or bamboo?
And don't forget about metal lighting fixtures which come in an array of finishes such as matte or jet black, chrome, or brass.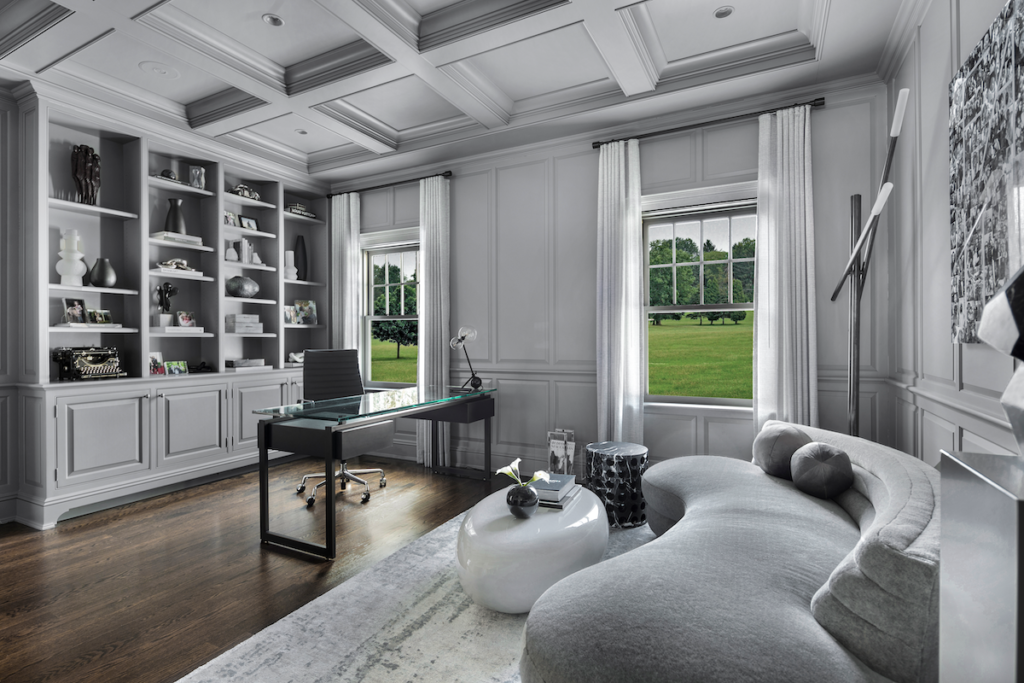 After you've formed a clear understanding of your likes, dislikes, and goals for the space, it's time to build a comprehensive design plan.
This is where all of your preferred colors, textures and materials come together to create a style that's uniquely yours. From here, it's our job as designers to source fabrics, finishes, and furnishings that relate to one another, select pieces that complement your lifestyle, and ultimately create a room that you're proud to call your own.
Ready to begin your transformation? Click here to schedule a phone call.